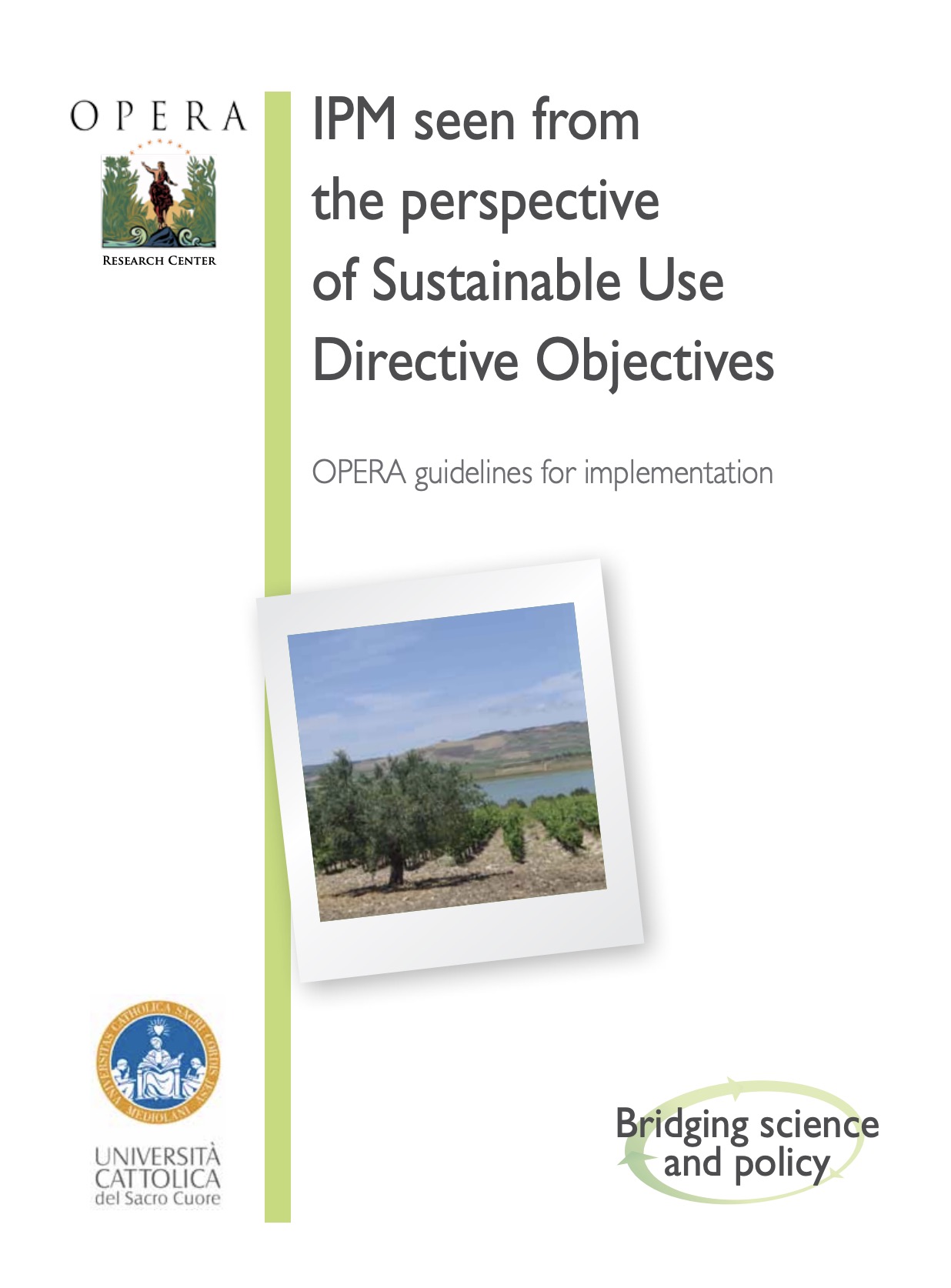 Version
Download

0

File Size

380.78 KB

File Count

1

Create Date

September 7, 2011

Last Updated

April 14, 2020
IPM seen from the perspective of Sustainable Use Directive Objectives
Last century has witnessed the biggest changes agriculture has ever seen: the productivity increased enormously and high quality, nutritionally rich and safe agricultural products have been provided by farmers. Plant protection plays one of the major roles in the development of this success. At the same time, the evolution of chemical, toxicological and environmental sciences acknowledged the incidence of possible undesired environmental effects, contamination of foodstuffs and risks for human health.
The most developed countries together with the international organizations moved therefore gradually their attention from the efficacy of the single tools to the sustainability of the practices. This is also one of the key principles at the basis of the new Directive on the Sustainable Use of Pesticides (SUD), but also of IPM (Integrated Pest Management), which is incorporated and recommended by the SUD.
Starting from one of the official definitions of IPM ("Integrated control represents procedures which utilizes all economically, ecologically, and toxicologically acceptable methods for keeping the pests under the threshold of harmfulness with preferential and meaningful utilization of natural restricting factors")  the authors of this publication stress the importance of considering IPM as a broad ecological approach utilizing a variety of pest control techniques, targeting the entire pest complex of a crop ecosystem: an approach therefore, not a specific measure.
As a consequence, the SUD includes a list of principles to be followed for an IPM approach: from prevention to monitoring and intervention with all the possible solutions (including anti-resistance strategies and biological control), targeting specifically the plant protection product to be used and its application. The authors mirror these basic principles against actions to be taken and tools to be provided, while assessing opportunities, constraints, required support and possible funding for the respective implementation at farm level.
Since the major need of not leaving farmers alone in the adoption of IPM procedures, training and demonstration of pilot cases together with the establishment of a common network between farmers, advisors, researchers and plant protection products producers in each country are seen as the only sustainable solution, coupled with implementing farmers funding policies.
To establish common priorities for IPM implementation, research needs to be encouraged, both at Member State and at European level in a framework of activities dealing with sustainable development of the farm business.
Communication to the public of higher safety and quality of food and environment deriving from the application of this framework should be in the future a major concern as to boost consumer confidence in European food products.
Attached Files