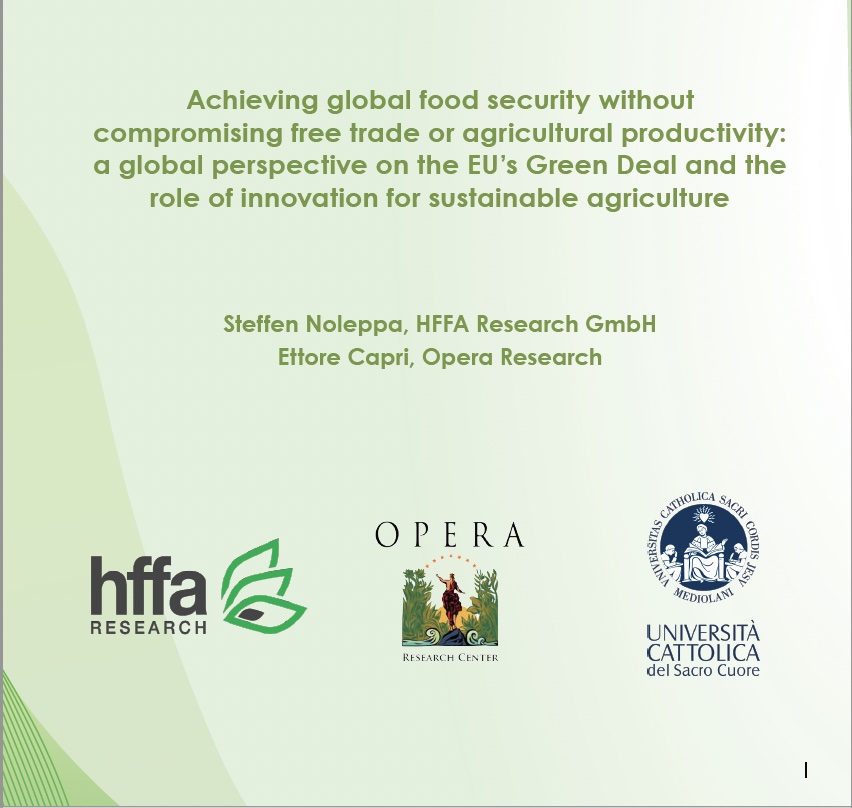 Versione
Scarica

47

Dimensioni file

1.41 MB

Conteggio file

2

Data di Pubblicazione

Settembre 29, 2022

Ultimo aggiornamento

Settembre 29, 2022
Achieving global food security without compromising free trade or agricultural productivity: a global perspective on the EU's Green Deal and the role of innovation for sustainable agriculture
Priority in agricultural policy making has progressively shifted to sustainability and away from production and productivity in some high-income countries over the past decades. In the European Union (EU), the European Green Deal and its Farm to Fork (F2F) and Biodiversity strategies seek to drive significant acceleration towards a more sustainable and resilient food system.
At the same time, the COVID-19 pandemic and the Russian war in Ukraine have recently highlighted food system vulnerabilities that can ultimately lead to a global food security crisis. Projections of an uncertain macroenvironment over the next ten years suggest potentially drastic consequences for hundreds of millions of people in low-income countries and for the vulnerable populations of developed nations.
Against this backdrop, it is critical to examine the driving role of policy and the potential for unintended consequences. Regulations affecting agricultural production and food trade globally can have negative repercussions when governments do not strike the right balance between environmental protection and food security. While increasing the sustainability of agricultural processes is a noble pursuit that must become reality—we need continuous improvements and innovation in agriculture and the food sector to foster economic prosperity, a healthy population and to protect the planet—we must nevertheless give the same emphasis to achieving food security when formulating and implementing policy. We may otherwise jeopardise realisation of the UN 2030 Sustainable Development Goals and create major disruptions at both regional and global levels.
Attached Files